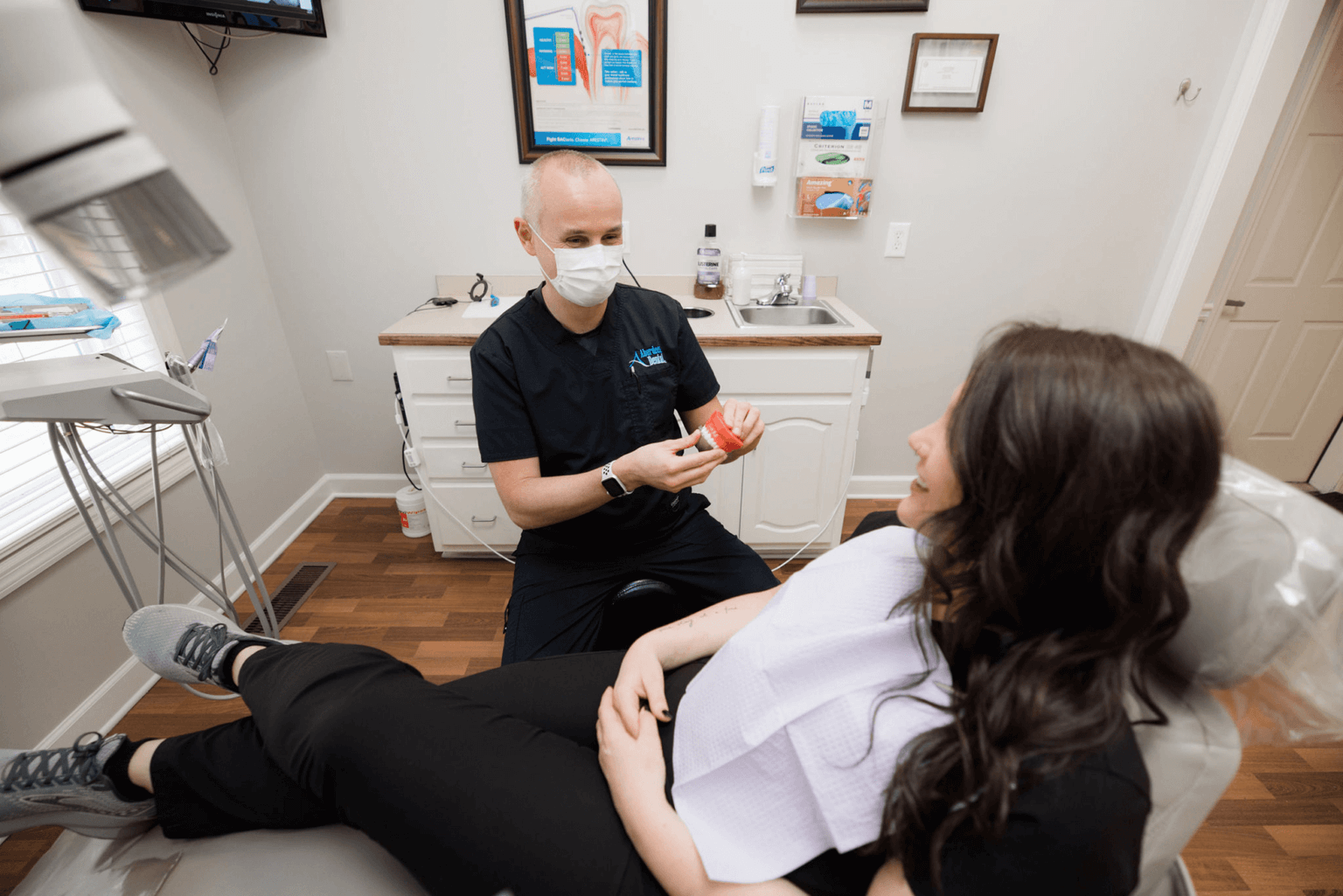 Revitalize Your Smile with Restorative Dentistry at Aberdeen Dental Group
As time passes, our teeth may suffer from wear, discoloration, and damage, leading to various dental concerns. Restorative dentistry at Aberdeen Dental Group can rejuvenate your teeth, restoring them to their natural glory, enhancing your oral health, and bringing back the beauty of your smile. Our suite of restorative treatments is designed to help you achieve a radiant, healthy smile with confidence. 
What is Restorative Dentistry?
Restorative dentistry specializes in reviving the health, aesthetics, and function of your teeth. It addresses issues caused by damage, decay, or loss due to injury or disease. Our objective is not just to restore your teeth but to elevate your smile, boost your confidence, and enrich your life.
Cavities & Dental Decay
Gum Disease
Missing Teeth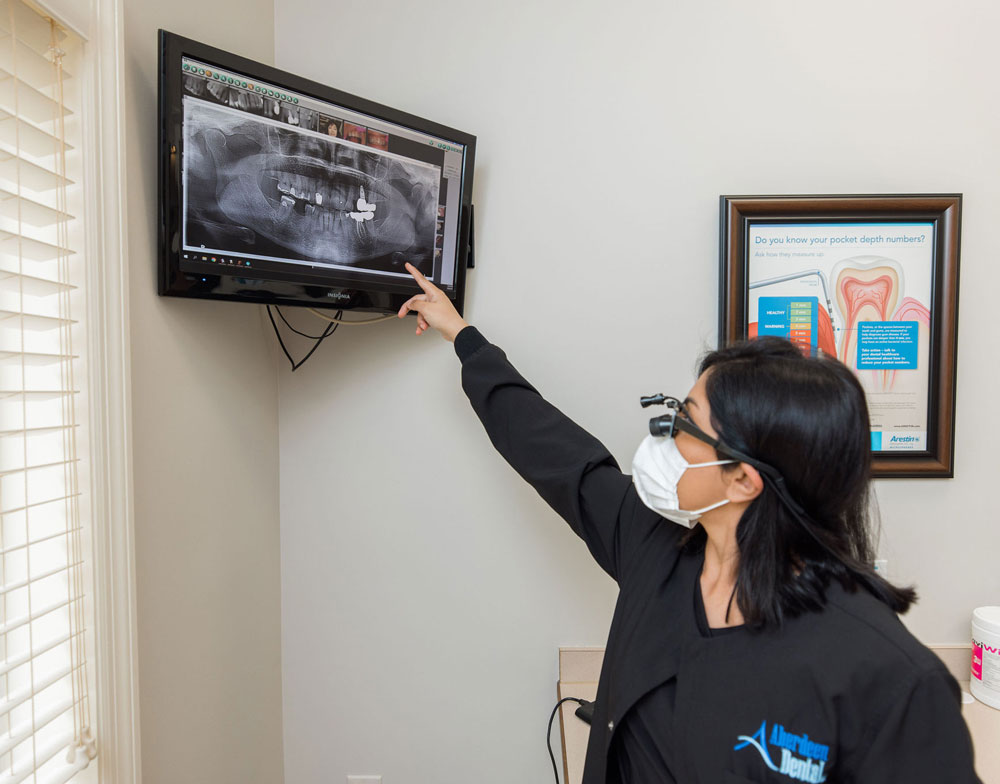 Embrace a Future Free of Dental Discomfort – Schedule Your Appointment at Aberdeen Dental Group and Rediscover the Joy of a Healthy Smile.
Comprehensive Restorative Treatments at Aberdeen Dental Group
Our array of restorative dental services is tailored to restore your smile's beauty and your teeth's natural function. Our experienced dental professionals will evaluate your dental health and recommend the most suitable restorative treatments for you.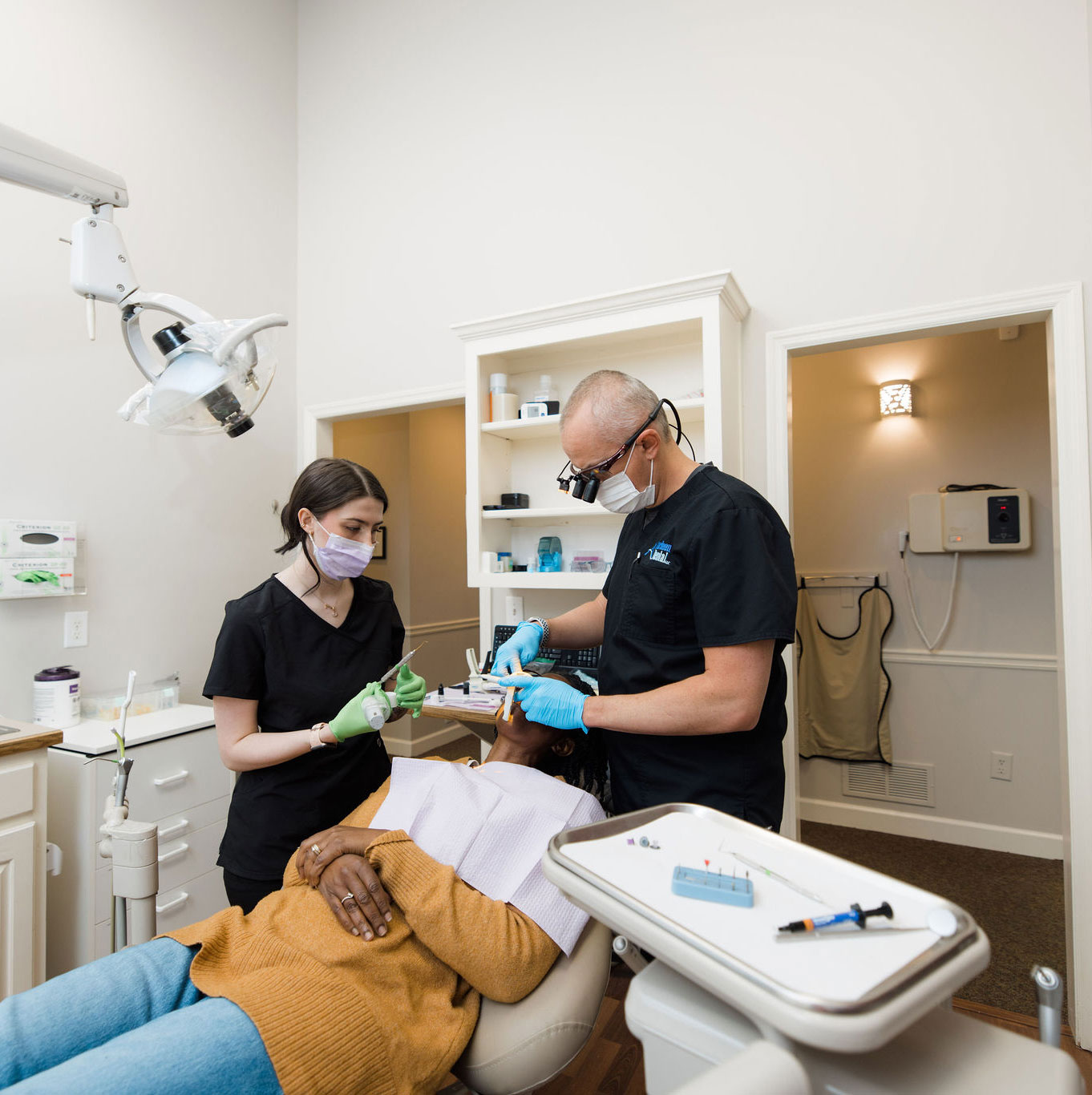 We offer diverse dental implant options, including All-on-4/All-on-6 implants, implant hybrid dentures, and individual implant restorations, to replace missing teeth effectively. 
Tailored smile makeovers combine restorative and cosmetic procedures like whitening, veneers, crowns, and orthodontics to create your dream smile, enhancing your confidence and self-esteem. 
Regain your confidence and improve your oral health with our restorative dentistry services – schedule your appointment with Aberdeen Dental Group now.
This category includes a variety of procedures such as inlays, onlays, dental crowns, and bridges to repair and restore damaged or decayed teeth. 
Our root canal treatments involve removing infected tissue, disinfecting the tooth, and restoring it, thus saving the tooth and avoiding extraction.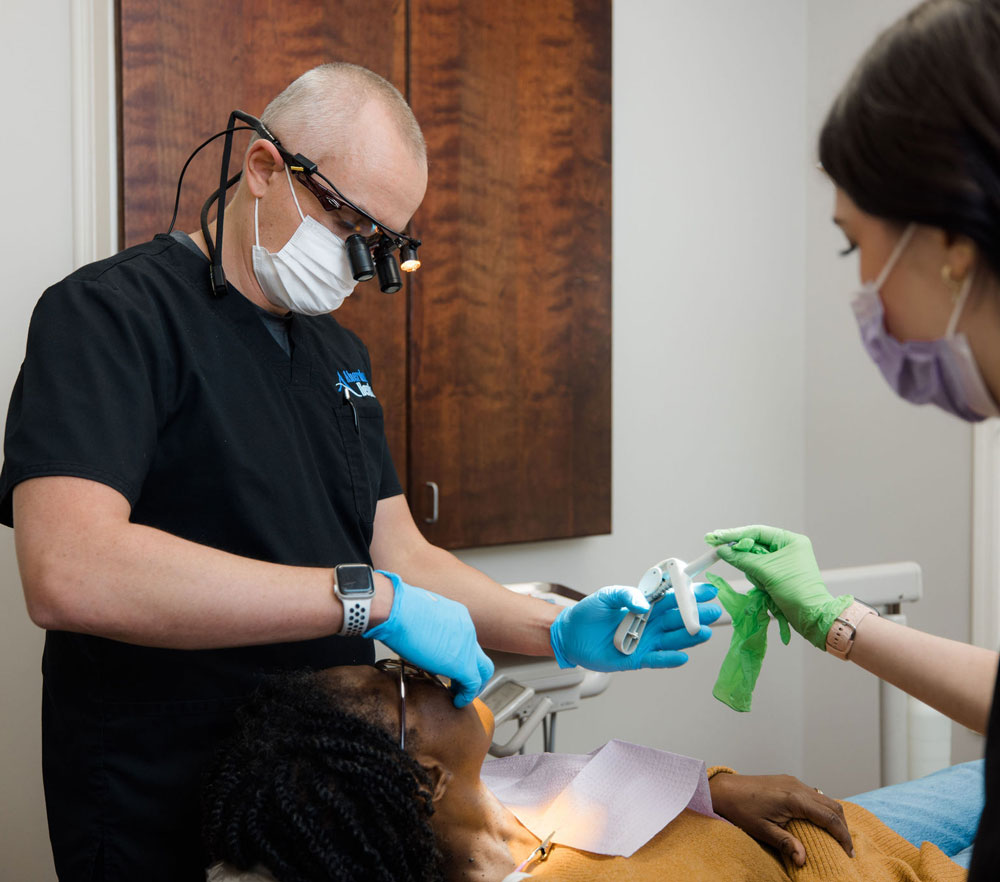 Reclaim Your Radiant Smile with Aberdeen Dental Group's Restorative Dentistry – Book Your Consultation Today!
We provide both full and partial dentures to replace missing teeth, improving your speaking and chewing abilities, and enhancing your smile. 
Full Mouth Restoration in Atlanta
For those with extensive dental issues, a full mouth restoration might be the ideal solution. This comprehensive approach encompasses a variety of treatments, including implants, fillings, crowns, bridges, veneers, and dentures, aimed at restoring your oral health and revitalizing the appearance and functionality of your teeth.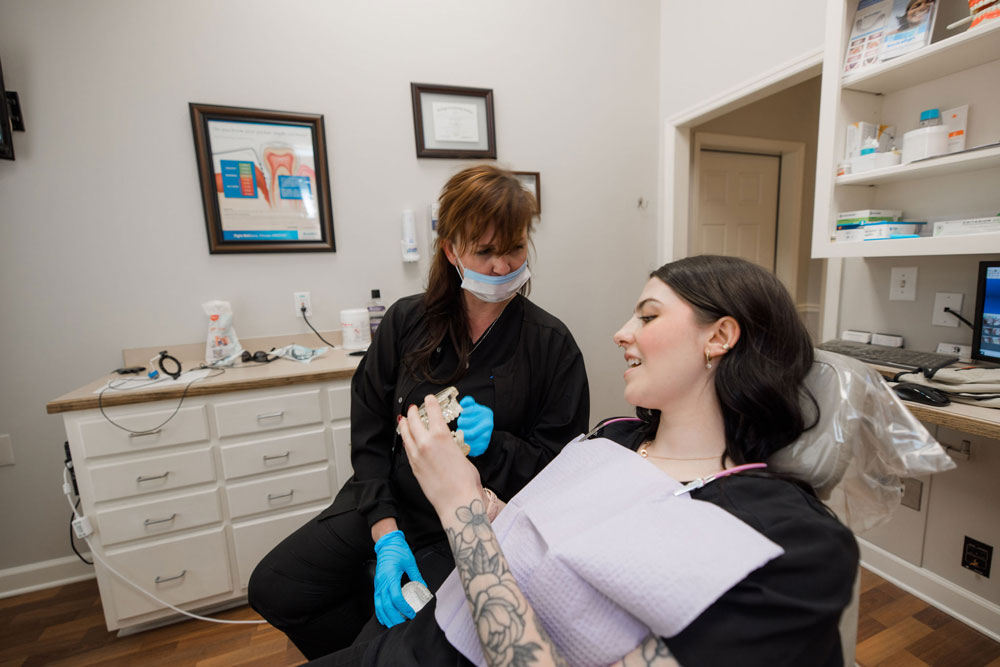 Don't Let Missing or Damaged Teeth Define Your Smile – Experience Premier Restorative Dentistry at Aberdeen Dental Group. Schedule Your Appointment Now!
The Benefits of Restorative Dentistry
Restorative dentistry offers numerous advantages, including enhanced oral health, a natural-looking smile, and a boost in self-confidence. It helps prevent further dental issues, like tooth decay and gum disease. By replacing missing teeth with implants or dentures, addressing discoloration with veneers or crowns, and correcting alignment issues, restorative treatments holistically improve your smile.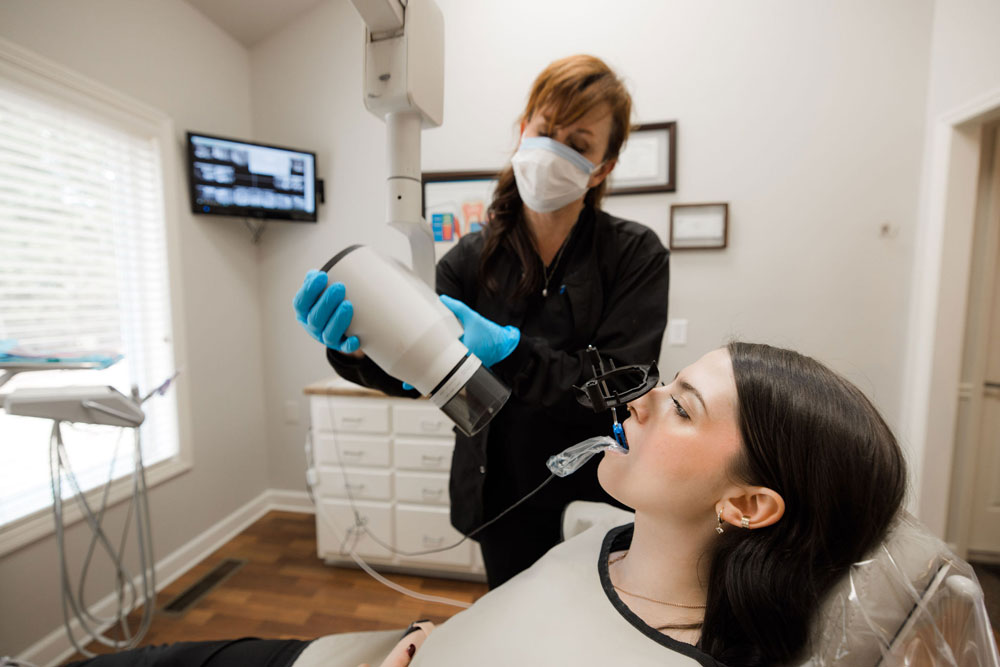 Schedule a Consultation with Our Restorative Dentists in Peachtree City, GA
At Aberdeen Dental Group, we provide personalized restorative dentistry in Peachtree City and Newnan. Using the latest technology and methods, our skilled dental team will assess your needs and recommend optimal treatments. Whether you need a single tooth repaired or a comprehensive dental overhaul, we are here to craft a customized plan that will lead you to a confident and beautiful smile. Request your appointment today to embark on your journey to dental wellness.